WANT TO ENJOY OLD TIME SPEEDWAY ?

Join one of the Vintage or Veteran Speedway Associations of Australia and relive some of those fabulous days of Speedway. Get to meet some of the riders and drivers you saw race at places like The Sydney Showground, Windsor Speedway, Westmead Speedway, Kembla Grange, Rowley Park, Tracey's, the Ekka and lots more old circuits. In the Vintage movement they restore the bikes and cars of yesteryear to a stage where they run them in

on-track demonstrations and make the dirt fly once more as well as having displays at Motor Shows and the like. All clubs have regular Newsletters to keep you up to date with club events and most have regular monthly or bi monthly general meetings. Below are some of the clubs you can join and enjoy your Speedway again. It's a great way to spend your leisure hours.

NATIONAL.

The Veteran Speedway Riders Association of Australia.

This Association caters for all those ex riders, pit crew and fans of Speedway Solos and Sidecars . 

Yearly Fees $20.00 Aud.

For Membership Enquiries ;

Bill Powell - Secretary / Treasurer - Ph. 02 9857 7367

VINTAGE SPEEDCARS (MIDGETS)

The Vintage Speedcar Association(NSW) Incorporated. caters for those lovers of old time midgets. The club accepts original and restored non roll bar and roll bar midgets up to December 1969 and Classic Roll Cage midgets up to June 30th 1983. A bi monthly Newsletter is mailed to each financial member, there is an annual Awards & Presentation Night , bi monthly general meetings at Ermington in Sydney and regular displays and runs of the cars. For information about the V.S.A of NSW write to  the Sectretary, PO Box 73 Wentworthville 2145 NSW Australia or phone

Colin Davidson  (President /Secretary )  02 9520 0954

     Alan Mace (Events Director) on  02 9521 6110

Email  mace396@hotmail.com

Club Fees P.A.: $40 First Year-- $35 Subsequent Years.


Visitors to this page since 29/7/04


The VINTAGE SPEEDCAR ASSOCIATION (QLD.) INCORPORATED.

P.O.BOX 293 Lutwyche  Queensland  4030

contact: 2012 - 2013 President :   Darren Sonnenberg - Mob 0413 166 340           

VICTORIA

VICTORIAN CLASSIC & VINTAGE SPEEDWAY CLUB

Caters for all sections of Vintage Speedway. All persons interested in Vintage Speedway are welcome to join.

Club Officials:             President   Kevin McCallum      03 5222 7899

         2012 -2013             Secretary    Russell Baker          03 9848 4227

THE SOUTH AUSTRALIAN CLASSIC SPEEDWAY ASSOCIATION

contact

President : 

John Moyle - Ph. / Fax 08 8264 3494
Vice President:   Ian McCarter - Ph. 08 8263 1433

                              All sections of Vintage Speedway




This page was last updated on: March 13, 2013
The W.A. Classic Speedway Association. - All classes of vintage and classic speedway.

Contact: President - Barry Kennington  Ph. 0428 123 919

Vice President 

    Kevin Webb  Ph. 0417 924 722
Secretary          

   Rex McKay  Ph. 08 9454 9968 Mob. 0418 924 923
                                         email rmckay31@hotmail.com

Treasurer          

   Rosemary Chapman
Club Mail address   PO Box 810 Victoria Park  W.A.  6979

SOUTH AUSTRALIA.

THE SOUTH AUSTRALIAN VINTAGE SPEEDCAR ASSOCIATION.

contact: Graham Masters  Ph. 08 8382 8062 Mob. 0414 395 377

                                               Fax. 08 8382 6541

                                              email  lorham@bigpond.com

                                             Email :  Ian Gear   iangear57@adam.com.au

The S.A.V.S.A. caters for Speedcars up to December 1980 - TQs up to Dec.1974. Bi Monthly meetings are held at the Motor Cycling S.A. Clubrooms. 251 The Parade , Beulah Park.  All vintage enthusiasts welcome.




N.S.W. Vintage Compact Speedcar Club.

Secretary / Treasurer : Alan Streader - Blacktown N.S.W.

                                                                       Phone : 02 9622 3257.

President.                     Ash Kindred     ph. 02 9637 2510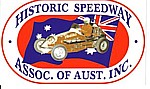 Historic Speedway Association of Australia Inc.

157 Rose Avenue,

Minden  4311

Queensland

Australia

President: Bob Turnbull

07 5497 0251
Vice Pres: Howard Marks    07 5497 9292

Secretary: Brian Crase

07 5426 8996

Classic Speedway Assn. Q'LD. Inc.

PO Box 24 Arana Hills Qld. 4054

Secretary : Tony Woods

Ph. 07 3264 1768 (after hours)

All sections of Speedway welcome.

:

Email :    bill.p133@live.com

AUSTRALIAN VINTAGE & CLASSIC  SPEEDWAY CLUBS