This page is dedicated to all of our two, three and four wheel Speedway heroes of the past. As a photographer for Peter White's Speedway World and some other publications for many years, I have had the great privilege and honour to be able to mix with and enjoy the company of a lot of our Speedway heroes of the past. It's been

" a boy in a lolly shop " experience for me to be able to sit down, have a chat and maybe a beer with a rider or driver I saw and revered as a young boy and teenager. Some have passed away since these photos were taken and some are still with us in 2005, but I thought as fans of our great sport you may wish to see the photos I have taken of them " as they are or were after Speedway"........Brian. 

All photos are copyright of Brian Darby unless otherwise stated, unauthorised copying or publishing is illegal.

The Veteran Speedway Riders' Dinner - Banksia 1995.

L to R. : Kevin Torpie (Qld.), Lindsay Mitchell (SA), John Fitzpatrick (UK), Allan Clark (NZ) Keith Cox (Qld.) and Arthur Payne (Qld.)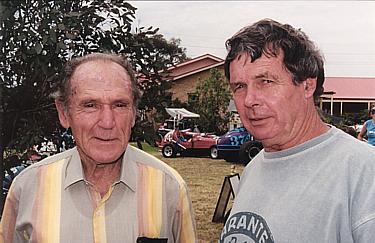 Aussie Speedcar Super Star, Peter Cunneen,left, with International solo rider Greg Kentwell - Liverpool 2001.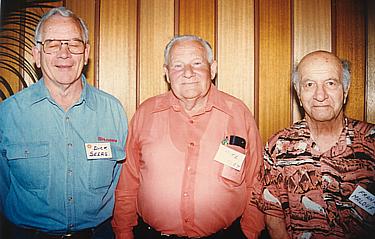 Solo boys, Dick Seers (Qld.) Noel Thorley and Frank Malouf - 1998.   We've lost Noel and Frank.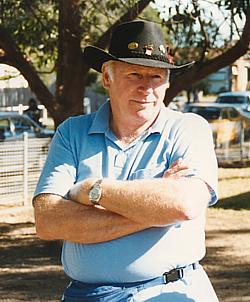 Some talent here ! Peter White's 50th Birthday Dinner ( won't say when ! )

L to R: Solo star Brian Collins with sidecar boys, Doug Robson, Peter White, Garry Treloar, Geoff Grocott and another top solo rider Ricky Day.

1950s Solo rider Phil Leth in 1995. Phil rode at Cumberland, Bathurst, Sydney Sports Ground and the Royale.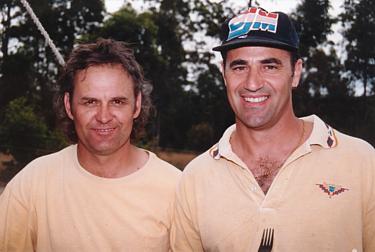 Phil Herne and Gary Guglielmi of solo fame.

Mulbring VSRA Day - 1996.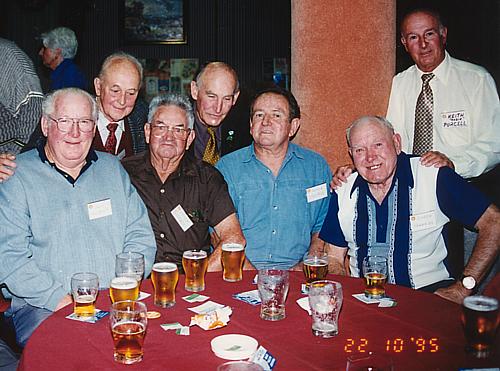 Sidecar stars of the 1940s and 1950s - Banksia 1995.

L to R: Jack Helback, Ray Robinson, Peter Simpson, Lionel Benson, Peter Speerin, the fabulous "Chook" Hodgekiss and Keith Purcell. We've lost Ray Robbo and Chook since the photo was taken.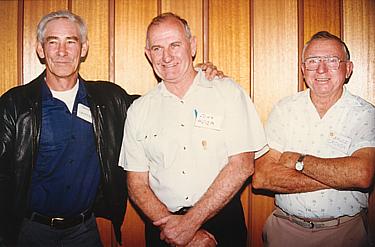 Solo boys, John Langfield, John Hook and Bruce Croxon.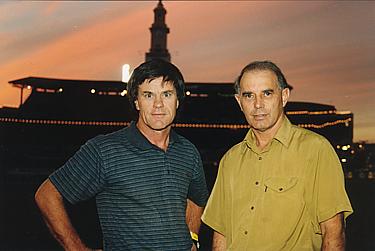 Multi Aussie solo champion Phil Crump with 6 times World Speedway champion, Ivan Mauger of New Zealand, on the infield at the final meeting of the famous Sydney Showground Speedway 27.4.96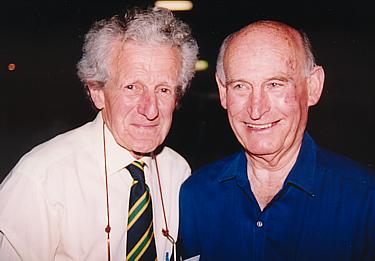 International solo guru and Grandfather to 2004 World Solo Champion Jason Crump, Neil Street

(left) is seen here with ex sidecar and solo International, Lionel Benson - VSRA Dinner 2001.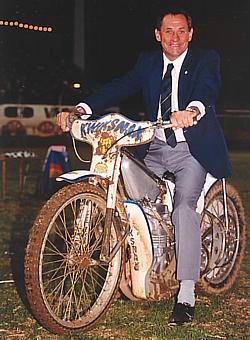 "King of The Royale", Jim Airey, at the close of the great venue in 1996, did a parade lap on Mick Poole's bike.

Some well known faces here !. Aust. Vets Dinner - Sans Souci - 2000.

L to R Standing: Chum Taylor (WA), Ian Williams (UK) Jack Geran ( now UK), Eric Williams ( ex UK), Neil Street.

Kneeling: Eric "Bluey" Scott (Qld.) and Colin McKee (WA)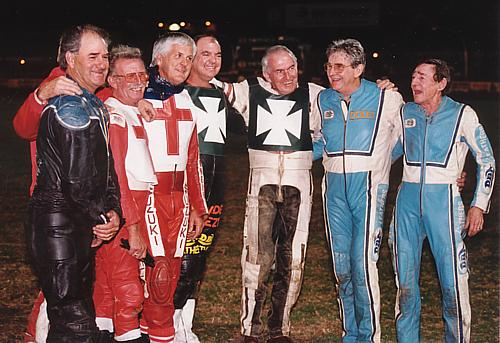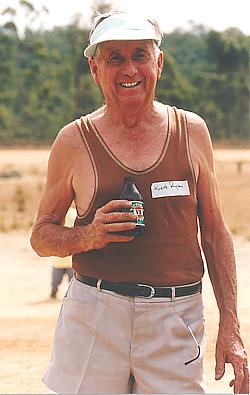 Re united in 1996 - sidecar stars of the Royale - L to R.: Arthur Lincoln, Bob Levy (hidden) Rob Lewis, Doug Robson, Peter White, Geoff Grocott, Doug Tyerman and Ray Murray. We lost Ray in early 2005

A true Aussie solo legend enjoying a vintage Speedway day out in 1996 with a VB and a smile, Keith "Buck" Ryan.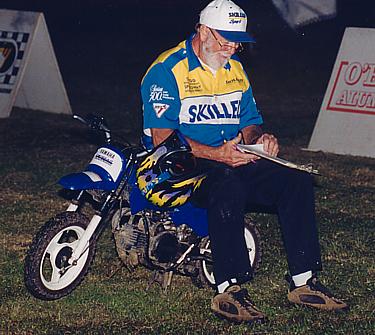 Jim Shepherd, Speedway historian, commentator, publisher and author of the book "A History of Australian Speedway' interviews the great multi World Solo Champion, Ronnie Moore at the Aussie Vets' Dinner - Sans Souci - 2003.

Ronnie's nick name was " Mirac" for miracle man !.

Ex Aussie sidecar champion, Bob Levy in his role as Road Manager etc. for the Series 500 solo series.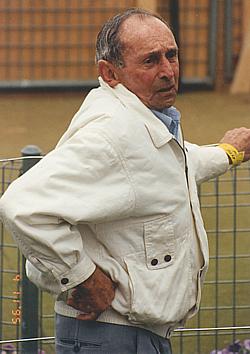 Clarence "Clacker " Levy. Bob's famous sidecar riding Uncle and brother to Lionel "Porky" Levy - Bathurst Long Track - 1995.

We've lost Clacker since.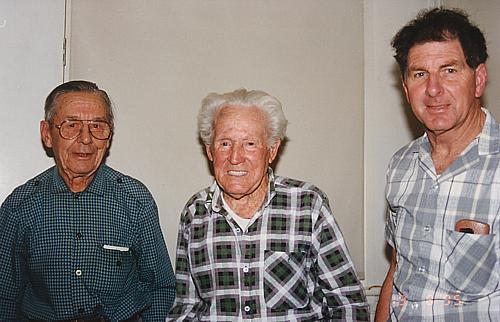 Left, New Zealand solo rider, Jim McLeod came over in 1936, rode with the Putt Mossman stunt team and stayed. Jim captained the Easts Solo Team in 1939 at the Sydney Sports Ground Speedway. Jack Patman, centre, was a Charlie Ogden contracted solo rider, rode with the greats, Bobby Blake, Bluey Wilkinson etc. ( beat Bluey in a match race at Bathurst ) and was 91 when I snapped this shot in 1995 .Dennis Fry, right, was a top Aussie road racer and rode the Isle of Man in the early 1950s, hitting a brick wall at 100mph in 1952, he's a lucky boy to be alive today. We've since lost Jack.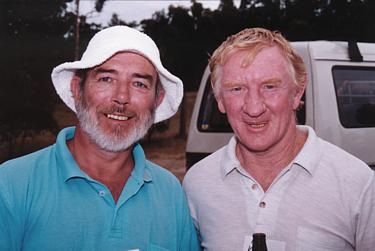 Howard Cole and Bob Valentine - Mulbring VSRA Day -1996.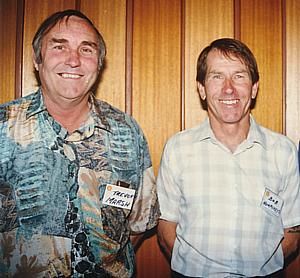 Trevor Marsh and Bob Humphreys.

On to Page 2 of  "OUR HEROES"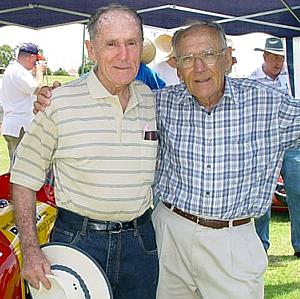 2004 - Our most famous 60s midget racing brothers, Peter and Bryan Cunneen.

Pic - John Stanley.